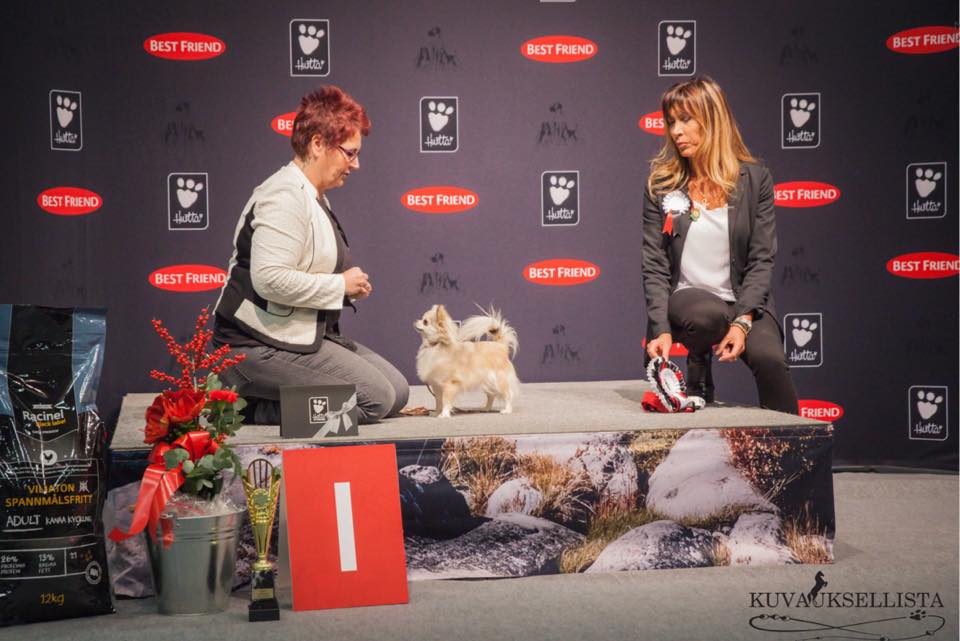 What an amazing weekend at Jyväskylä INT in Finland!
On Saturday Elith Page Turner was first BOB with CACIB and then BOG1…. and finally BIS3!!! This must be one of our biggest moments as breeders! To have our breeding on the BIS podium at one of the biggest shows in Finland with a very high quality of competitors! Thank you Merja for great handling and hugh congratulations to the owners Janita and Ronja Richartz!
Here you can see the live streaming video from the main ring with Andrew Brace and Paula Heikkinen-Lehkonen as speakers. Group 9 starts around 1:36 and BIS starts around 2:29.
Besides this Helmiäisen Esquire was BM2 with CACIB on Saturday.
Thanks to breed judge Paolo Tartaro, group judge Elisabetta da Luca and BIS judge Tamas Jakkel!!!
And on Sunday Helmiäisen Esquire was BOB with CACIB and Elith Page Turner was BF2 with R-CACIB. And Angus daughter Helmiäisen Lagertha debuted in junior class winning the CAC. Congratulations to breeder Merja Karhunen!
Thanks to breed judge Nelson Segala!