Vi är glada att vara sponsrade av ReDog!
Även små hundar behöver de bästa förutsättningarna för att leva ett långt och friskt liv! För oss är det en självklarhet att alla våra hundar, stora som små, ska må bra och vara i topptrim – både fysiskt och mentalt. Därför har vi valt att använda oss av ReDogs fantastiska produkter, såsom klövjeväskor, benmanschetter och täcken, men även kosttillskott. Sedan vi började med produkterna ser vi en tydlig skillnad på hundarna. De bygger fina muskler, får ett mer välbalanserat rörelsemönster och därmed en naturligt bättre hållning. Även mentalt märker vi att de är betydligt mer skärpta och orkar mer. Vi är otroligt nöjda med produkterna och kan varmt rekommendera dem till alla hundägare – oavsett om man har en stor brukshund eller en liten sällskapshund. Alla hundar förtjänar ett hälsosamt liv.
Tack ReDog för era enastående produkter! Utan dessa hade våra hundar aldrig varit i den toppkondition de är i idag!
Video på vår Yngve när han går med klövjeväskan och benmanschetterna för första gången här >>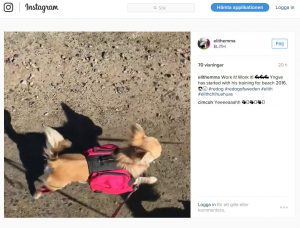 Vill du också ge din hund ett fullgott och hälsosamt liv? Ta då gärna kontakt med Cima Cohen. Hon kan hjälpa er med förebyggande friskvårdsbesiktning – kolla eventuella rörelsestörningar och förutsättningar för vidare fysträning samt hjälpa er att öka möjligheterna för att förbättra hundens rörelser och välmående framöver.
För välmående och bästa möjliga fysiska förutsättningar kan hon även hjälpa er att förmedla produkter, såsom kosttillskott, hundtäcken, klövjeväskor och manschetter m.m.
Cima är ute på många av de stora utställningarna, annars går det även bra att beställa produkter och få dem skickade hem till er.
Ni hittar mer info om produkterna här >>
Vid intresse kontakta Cima Cohen
fccoachen@gmail.com

---
We are happy to be sponsered by ReDog!
Also small dogs need the best conditions to live a long and healthy life! For us it is a given that all of our dogs, big as small, feel good and are in top condition – both physically and mentally. Therefore, we have chosen to use the ReDogs fantastic products such as muscle bags, leg cuffs and blankets, but also their supplements. Since we started with the products, we can see a clear difference in the dogs. They build nice muscles, get more balanced movements and therefore a naturally better posture. Even mentally, we notice that they are much more stringent and have more endurance. We are incredibly pleased with the products and can highly recommend them to all dog owners – whether you have a bigger working dog or a small companion dog. All dogs deserve a healthy life.
Thanks ReDog for your outstanding products! Without them, our dogs would never be in the top condition they are in today!
Video of our Yngve when he tries the muscle bag and the leg cuffs at his first try here >>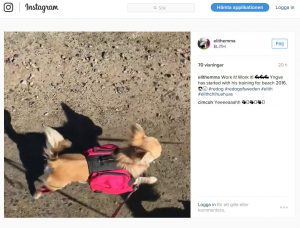 Are you also interested in giving your dog a proper and healthy life? Then do not hesitate to contact Cima Cohen. She can help you with health checks – check any movement disorders and conditions for further physical training as well as help you to increase the opportunities for improving the dogs movements and healthy future.
For well-being and optimal physical conditions, she can also help you to convey products, such as supplements, dog coats, muscle bags and leg cuffs, etc.
Cima is available on most of the big dog shows, otherwise you are able to order products and have them sent to your home.
You can read more about the ReDog products here>>
If interested please contact Cima Cohen
fccoachen@gmail.com